Zomerkriebels met Bert en Ernie
Talk

0
26,858pages on
this wiki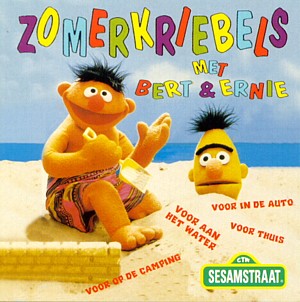 This soundtrack album for Sesamstraat, the Dutch co-production of Sesame Street, was released by Weton Wesgram in 1997.
Zomerkriebels met Bert en Ernie (Summer Itches with Bert and Ernie) features fun songs from previous albums, to listen to on vacation.
Track list
Sesamstraat Thema (Sesamstraat Theme) - Sesamstraat Choir
Maak Er Wat Van (Make It Into Something) - Bert & Ernie
Jouw Cijfer Bert (Six) - Bert & Ernie
Lekker Tappen Met Elmo (Happy Tappin' with Elmo) - Elmo
Kijk Met Me Rond Of Je Vormen Ziet (Shapes in My Room) - Telly
Beste Vriendjes Blues (Best Friend Blues) - Ernie & Snuffy
Ik Dans Mezelf In Slaap (Dance Myself to Sleep) - Bert & Ernie
Alfabetmars (Alphabet March) - Bert, Ernie, Kermit & Grover
Vind Je Me Aardig (Do You Like Me?) - Bert & Ernie
Ik Ben Trots Op Mij (Proud of Me) - Grover
Maak Geen Rotzooi Van De Zee (Love the Ocean) - Sesamstraat Choir
Daarvoor Ben Je M'n Vriend (That's What Friends Are For) - Bert & Ernie
Drie Mooie Kleuren (Just Three Colors) - Bert & Ernie
Ik (Me) - Bert & Ernie
Zoek De Zeep (Do De Rubber Duck) - Ernie
Stel Je Voor (Imagine That) - Ernie
Cast
Trivia
For tracks 5 and 6, Cookie Monster is erroneously credited instead of Telly and Snuffy.
See also