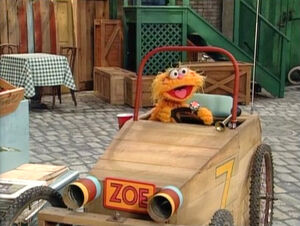 The Zoemobile is a small wooden go-cart driven by Zoe on Sesame Street. The car has a seat, a steering wheel, a horn, a dinger and a cup holder. Although not registered with the Department of Motor Vehicles, the car has a license plate with Zoe's name on it.
Maria built the car for Zoe in Episode 3789 and it appeared on the show through season 33. Zoe and her Zoemobile also frequently appeared in their own separate bumpers, introducing various segments such as the letter and number of the day.
Book appearances
Ad blocker interference detected!
Wikia is a free-to-use site that makes money from advertising. We have a modified experience for viewers using ad blockers

Wikia is not accessible if you've made further modifications. Remove the custom ad blocker rule(s) and the page will load as expected.