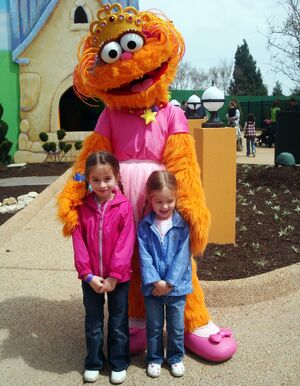 A full-bodied walk-around of Zoe was created for stage and public appearances, including Sesame Street Live, performed to a vocal track by Fran Brill. Like her puppet counterpart, the Zoe walk-around was originally unclothed until the early 2000s, when she began wearing a tutu.
Zoe was added to Sesame Place in 1996. Zoe also has appeared at SeaWorld San Diego and Orlando, Busch Gardens Europe, Busch Gardens Africa, Parque Plaza Sésamo, Sea World in Queensland, Australia, Universal Studios Japan, Tokyo Sesame Place, and the 2003 White House Easter Egg Roll.
Ad blocker interference detected!
Wikia is a free-to-use site that makes money from advertising. We have a modified experience for viewers using ad blockers

Wikia is not accessible if you've made further modifications. Remove the custom ad blocker rule(s) and the page will load as expected.