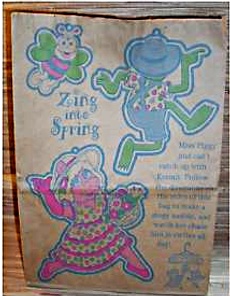 In 1994, Target featured special paper bags to tie into their storewide "Zing into Spring" promotion. The bags were decorated with drawings of Kermit the Frog and Miss Piggy in their Zing Into Spring dolls outfits. One side featured the front of the figures, and one the back. There was also a bumble bee. Included on the bag were directions to cut out the figures, tape or glue them together, and then hang them from a clothes-hanger to create a mobile.
See also
Ad blocker interference detected!
Wikia is a free-to-use site that makes money from advertising. We have a modified experience for viewers using ad blockers

Wikia is not accessible if you've made further modifications. Remove the custom ad blocker rule(s) and the page will load as expected.