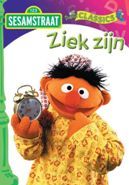 Ziek zijn (Being Sick) is a Sesamstraat DVD released in 2007, as part of Weton Wesgram's Sesamstraat Classics collection.
Segments
Dokter Pino
Bert's onderzoek
Opa
Groente I
Niesbloemen
Hatschie
Grover: algemeen onderzoek
Sneeuwman
Fruitdokter II: appel
Dikkie Dik: ziek zijn
Elmo praat over slaap
Netelroos
Hou het park schoon voor de duiven
Groente II
Waarom beren glimlachen
Vieze vliegen
Ad blocker interference detected!
Wikia is a free-to-use site that makes money from advertising. We have a modified experience for viewers using ad blockers

Wikia is not accessible if you've made further modifications. Remove the custom ad blocker rule(s) and the page will load as expected.