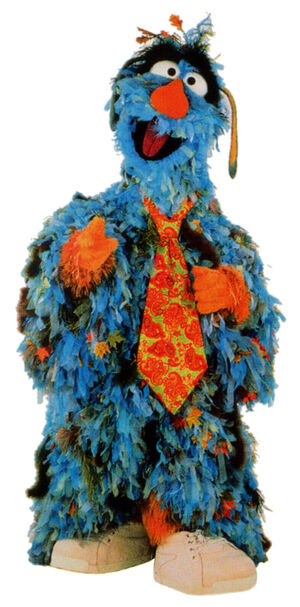 Template:Designer Zeliboba (Зелибоба) is a full-bodied character on Ulitsa Sezam, the Russian co-production of Sesame Street. The character was originally created by Ed Christie with a coat of soft brown fur and leaves. When presented to the Russian producers, though, they requested that he be made blue, the color traditionally associated with spirits in Russian culture.
Ed Christie considers Zeliboba his favorite character creation; he remarked that it resembles a large moving mulch pile. [1]
Sesame Workshop description
Zeliboba is a tall furry blue spirit who enjoys nature and lives in the hollow of a gigantic oak tree. He is a very large, somewhat awkward, kind-hearted, warm and trusting character. He has an exceptional nose, which he uses to detect smells, moods, the weather, and even music. Whenever he encounters something new, he sniffs it. Zeliboba is a "Dvorovoi" [or "Dratcher" - which means the same] —a spirit of the courtyard. He has his own vision of the world and nature, and sometimes has his head in the clouds. This can get him into funny situations. Zeliboba collects neckties of all types, sizes and colors. He even has a tie museum on Ulitsa Sezam. Birthday: April 19
Sources
↑ "Christie builds puppets for the world, no strings attached", Sue Harrison, The Provincetown Banner and Advocate. December 4, 2008.