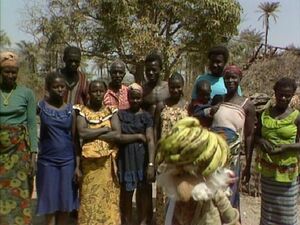 Zambia is an African country. It was part of the British protectorate Rhodesia from 1890 until the country gained independence in 1964.
In an international postcard on Fraggle Rock, Uncle Traveling Matt visits Zambia and notes the nativa custom of carrying bunches of bananas upon one's head (assuming it's a form of hat).
A worm from Zambia was among the applicants for the WASA space program in Sesame Street Episode 3697 (1998) but did not make it into the final crew roster of the Wiggleprise.
In 2012, the Australian Sesame Street stage show tour Elmo's World Tour included a visit to Zambia.
Ad blocker interference detected!
Wikia is a free-to-use site that makes money from advertising. We have a modified experience for viewers using ad blockers

Wikia is not accessible if you've made further modifications. Remove the custom ad blocker rule(s) and the page will load as expected.