Ad blocker interference detected!
Wikia is a free-to-use site that makes money from advertising. We have a modified experience for viewers using ad blockers

Wikia is not accessible if you've made further modifications. Remove the custom ad blocker rule(s) and the page will load as expected.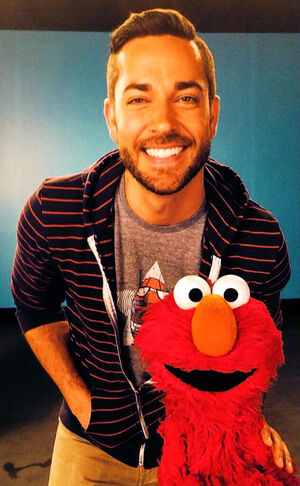 Zachary Levi (b. 1980) is an actor best known for playing the title character on the NBC series Chuck. His other credits include playing Toby Seville in Alvin and the Chipmunks: The Squeakquel, the voice of Flynn Rider in Disney's Tangled, and Fandral in Thor: The Dark World.
Levi appeared in a Word of the Day segment for season 45 of Sesame Street, presenting the word "applause" with Elmo. In May 2014, he appeared in "A Lovely Sunny Day" with Bert for Mashable.
Levi, who also co-founded The Nerd Machine, moderated the Nerd HQ panel (an annual event since 2011) at San Diego Comic-Con "A Conversation with Sesame Street" on July 26, 2014; which featured Muppet performers Eric Jacobson (with Grover and Bert), Joey Mazzarino (Murray Monster), and David Rudman (Cookie Monster) as guests. (YouTube)