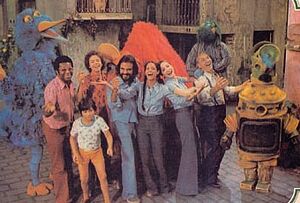 Zé Das Latas was Vila Sesamo's resident robot in the 1972 run. He was orange and was not built by the Children's Television Workshop.
Zé Das Latas was also featured in merchandise, such as a school writing slate and as a finger puppet.
Ad blocker interference detected!
Wikia is a free-to-use site that makes money from advertising. We have a modified experience for viewers using ad blockers

Wikia is not accessible if you've made further modifications. Remove the custom ad blocker rule(s) and the page will load as expected.