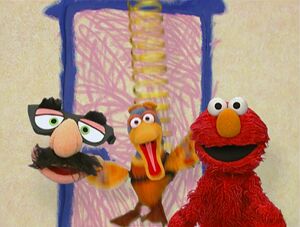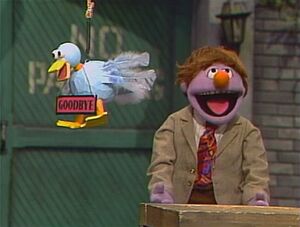 You Bet Your Life was an American radio and television quiz show hosted by Groucho Marx. Debuting on radio in 1947 for the ABC network, the show then moved to television in 1949 on CBS, and then moving to NBC in 1950 where it was aired simultaneously on radio and television.
The format of the show was simple: a pair of individuals would compete for cash by answering random trivia questions. If they uttered the "secret word," a duck would drop from the ceiling, informing the contestants they had won the bonus prize for their discovery.
The show ran until 1961, and was revived with Buddy Hackett in 1980 for less then a single season. Richard Dawson filmed a pilot for another version in 1988, but it failed to be picked up for a season. In 1992 Bill Cosby hosted yet another revival, which like the Hackett version, lasted for a single season.
Appearances
References
In the Elmo's World episode "Eyes," the show is referenced when Elmo interviews a pair of Groucho Glasses and a duck drops from the ceiling.
Ad blocker interference detected!
Wikia is a free-to-use site that makes money from advertising. We have a modified experience for viewers using ad blockers

Wikia is not accessible if you've made further modifications. Remove the custom ad blocker rule(s) and the page will load as expected.