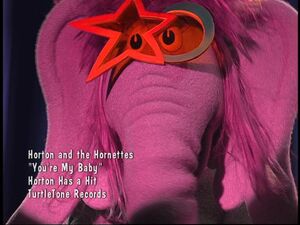 "You're My Baby" is a song that Horton the Elephant sings to his son Morton the Elephant Bird as a lullaby. Yertle the Turtle hears Horton singing and tells him that he could be a singer and get lots of money. So he signs him up and makes him a big singing star, but he only has one hit. At the end Horton goes back to his son and doesn't become a singing star.
It was featured in the Wubbulous World of Dr. Seuss episode "Horton Has a Hit".
Ad blocker interference detected!
Wikia is a free-to-use site that makes money from advertising. We have a modified experience for viewers using ad blockers

Wikia is not accessible if you've made further modifications. Remove the custom ad blocker rule(s) and the page will load as expected.