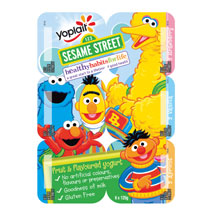 Yoplait in Australia launched Sesame Street-branded packaging for their yogurt in 2009. The yogurt comes with strawberry or apricot fruit pieces, or vanilla flavoring. The package bears Sesame Workshop's Healthy Habits for Life logo.
See also
External links
Ad blocker interference detected!
Wikia is a free-to-use site that makes money from advertising. We have a modified experience for viewers using ad blockers

Wikia is not accessible if you've made further modifications. Remove the custom ad blocker rule(s) and the page will load as expected.