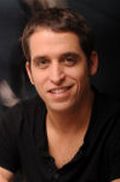 Yoav Hyman (sometimes spelled Yoav Himan) is an Israeli voice actor who dubs Grover in the 2006 revival of Rechov Sumsum, both in clips and in new street footage, to the puppeteering of Gilles Ben-David.
Hyman is part of the repertory ensemble for Jerusalem's Khan Theatre stage company. He has appeared in such productions as Moliere's Scams of Scapin (as Octave), a trio of Harold Pinter plays under the titleNew World Order, and Othello (as Roderigo), among many others.
Ad blocker interference detected!
Wikia is a free-to-use site that makes money from advertising. We have a modified experience for viewers using ad blockers

Wikia is not accessible if you've made further modifications. Remove the custom ad blocker rule(s) and the page will load as expected.