Written by
Frank Silver and Irving Cohn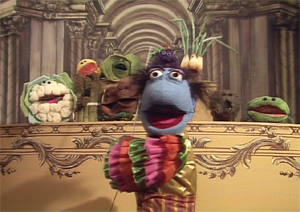 "Yes! We Have No Bananas" is a novelty song from the 1922 Broadway revue Make It Snappy sung by Eddie Cantor. It became a major hit as recorded by Billy Jones which inspired the follow-up song, "I've Got the Yes! We Have No Bananas Blues".
Kermit and Chicken Liver lip-synced to this song in the early 1960s when they made a guest appearance on The Today Show.
On episode 208 of The Muppet Show, Marvin Suggs and the All-Food Glee Club auditioned by singing this song. The singing vegetables also performed a short version of the song during the opening of episode 510.
The Swedish Chef later sang this song (in mock-Swedish) in episode 412 with some of the vegetables also singing in mock-Swedish.
References
Releases
Video
Ad blocker interference detected!
Wikia is a free-to-use site that makes money from advertising. We have a modified experience for viewers using ad blockers

Wikia is not accessible if you've made further modifications. Remove the custom ad blocker rule(s) and the page will load as expected.