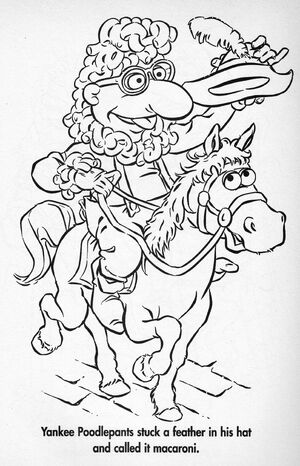 Yankee Doodle is a well-known British/American song, whose origins are unclear. Originally sung by British military officers to mock the colonial "Yankees", the song has become patriotic in America, and is the state anthem of Connecticut.
The painting The Spirit of '76 is also known as Yankee Doodle, and like the painting, the song has been referenced numerous times by the Muppets.
References
Kermit helps Don Music finish the "Yankee Doodle" song, then because Don finds the idea of calling feathers macaroni ridiculous, they rewrite it to be a song in which Yankee Doodle stays at home cooking for his pony, puts "fat spaghetti" in a pot and calls it macaroni.
Two girls sing a clap song about the letter D to the tune of Yankee Doodle on Sesame Street. (EKA: Episode 3357)
Ad blocker interference detected!
Wikia is a free-to-use site that makes money from advertising. We have a modified experience for viewers using ad blockers

Wikia is not accessible if you've made further modifications. Remove the custom ad blocker rule(s) and the page will load as expected.