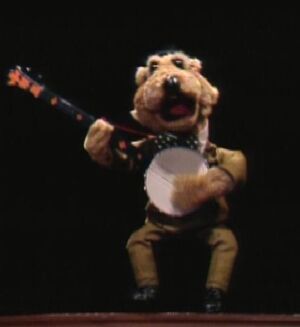 Yancy Woodchuck plays his banjo and sings "Barbeque" at the talent show in the 1977 special Emmet Otter's Jug-Band Christmas.
In the 2008 stage adaptation, Yancy is also the fruit stand owner who interacts with the Riverbottom Gang just before they enter Mrs. Mink's music store. The puppet in the musical was required to play banjo live for his rendition of "Barbeque" which necessitated guitar picks being glued onto Yancy's fingers. The role was originated by David Stephens for the world premiere production.
Yancy also appeared at Jim Henson's Musical World and was performed by Dave Goelz. The puppet later returned at the 2013 National Puppetry Festival, once again performed by David Stephens.