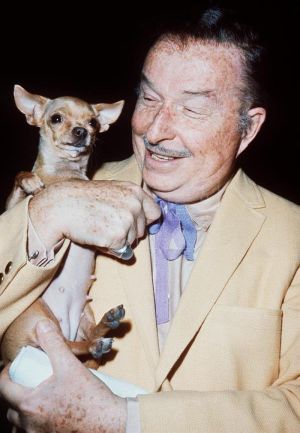 Xavier Cugat (1900-1990) was a bandleader who helped increase the popularity of Latin music in the United States. Cugat was known for leading his band with a baton in one hand and a pet chihuahua in the other.
In the 1940s, Cugat was under contract to MGM and appeared with his band as a personality in ten movies, including three Esther Williams vehicles. Several of his recordings and albums involved re-arranging songs to the rhythms of specific popular dances, including the cha-cha.
References
On the December 12, 1963 broadcast of The Jimmy Dean Show, Rowlf claims to have taken cha-cha lessons from Xavier Cugat's chihuahua.
Ad blocker interference detected!
Wikia is a free-to-use site that makes money from advertising. We have a modified experience for viewers using ad blockers

Wikia is not accessible if you've made further modifications. Remove the custom ad blocker rule(s) and the page will load as expected.