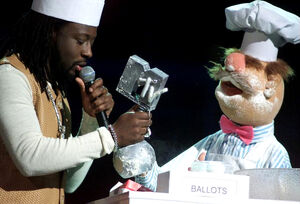 Wyclef Jean (b. 1969) is a hip-hop emcee and music producer who became famous as the leader of The Fugees in the mid-1990s.
The group recorded a version of the Sesame Street song "Just Happy to Be Me" for the Elmopalooza! TV special, which aired in 1998. The track also appears on the special's soundtrack CD.
Jean appeared onstage with the Swedish Chef at the MTV Europe Music Awards in Stockholm, Sweden, on November 16, 2000.
Wyclef Jean also performed a new version of "Healthy Food" with Cookie Monster in 2005, first seen in the video Happy Healthy Monsters and then in episode 4085.
External links
Ad blocker interference detected!
Wikia is a free-to-use site that makes money from advertising. We have a modified experience for viewers using ad blockers

Wikia is not accessible if you've made further modifications. Remove the custom ad blocker rule(s) and the page will load as expected.