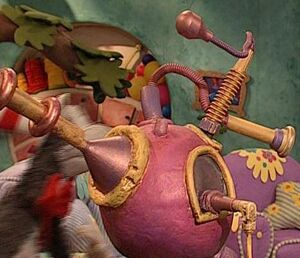 Wubbuloscope is a telescope that helps The Cat in the Hat look into the Wubbulous World when ever there's a story to be told. He cranks a little crack that extends the scope out a little longer for him to see whatever is going on. He uses it whenever he has to look into The Kingdom of Didd, The Jungle of Nool and Seussville. There's also a map that he uses whenever he uses the Wubbuloscope.
Ad blocker interference detected!
Wikia is a free-to-use site that makes money from advertising. We have a modified experience for viewers using ad blockers

Wikia is not accessible if you've made further modifications. Remove the custom ad blocker rule(s) and the page will load as expected.