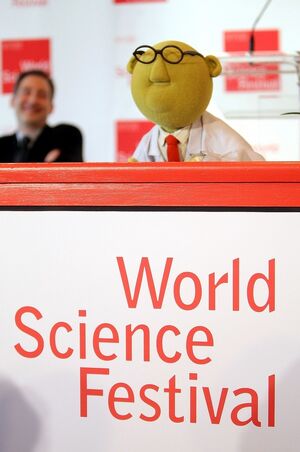 The first World Science Festival was held in New York City from May 23 until June 1, 2008.
At the April 2 press conference at New York University announcing the event, Alan Alda, serving as an advisor and speaker at the event, was joined by festival co-founder, Columbia University physics professor and author Brian Greene, Chancellor Joel I. Klein of the New York City Department of Education, and a special guest from Muppet Labs, Dr. Bunsen Honeydew (who posed for photos with Alda and others, and sprayed Klein with silly string).
On May 30, 2008 the Muppet Mobile Lab strolled around the WSF Street Fair, which took place in and around Washington Square Park, on the New York University campus.
Notes
A framed photo of Dr. Bunsen Honeydew's appearance at the World Science Festival is featured on Beaker's desk in the Muppet viral video Beaker's Ballad, during Honeydew's assistant's performance of "Dust in the Wind."
External links