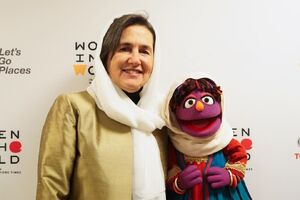 Women in the World is a new outlet run in association with The New York Times. They hold annual summits to gather "women in the headlines and women on the front lines."
In April 2016 Zari from Baghch-e-Simsim, the Afghanistan co-production of Sesame Street appeared at the 7th annual Women in the World Summit in New York. Other participants in the 2016 summit included Meryl Streep, Laura Bush, Barbara Pierce Bush, Rula Ghani, Diane von Furstenberg, Alek Wek, and Mindy Kaling.

External links
Ad blocker interference detected!
Wikia is a free-to-use site that makes money from advertising. We have a modified experience for viewers using ad blockers

Wikia is not accessible if you've made further modifications. Remove the custom ad blocker rule(s) and the page will load as expected.