Woman's Day is an American magazine aimed at a female readership, covering such subjects as food, nutrition, fitness, beauty and fashion.
December, 1969
In the December 1969 issue, Jerry Juhl wrote what the magazine called an "original Christmas time puppet play."
The play, The Purple-Necked Black-Bearded Blatch, totaled five pages, with puppet design credited to Jim Henson. Patterns for the puppets were also included in the five page spread.
The characters included in the story were twin sister and brother Zing and Zang Zong, Mr. Figg, and the Purple-Necked Black-Bearded Blatch.
1971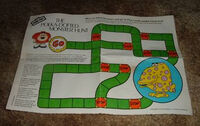 Issues in January and March included Sesame Street guides. The former featured activities such as "The Polka-Dotted Monster Hunt" with Alice Braithwaite Goodyshoes.
Unknown, 1979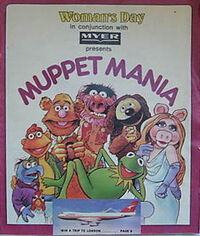 In 1979, in conjunction with Myer, the Australian edition of Woman's Day published a Muppet Mania liftout section. It included a full-color guide to the Muppets Go to Hollywood movie, an interview with Jim Henson, a who's who guide to the characters, merchandise ads, and an activity page.
January 8, 1985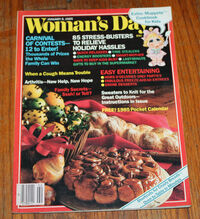 The January 8, 1985 issue comes with an extra Muppets cookbook for kids.
External links