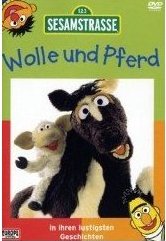 Wolle und Pferd is a Sesamstrasse video.
Segments
Wer, wie, was
Wolle am Mittag - Hallo Kinder
Pferd und die Zaubertasche
Ne kleine gelbe Möhre
Pferds Welt - Kälte
Wolle und Pferd zelten
Wolle am Mittag - Hufgeruch
Apfelampel
Pferdeliebe
Von Kopf bis Fuß
Wetten! Was? Alte Socke
Pferd, die Sportskanone
Deutschland such das Superschaf - Dichten
Lili Marleen
Schäfchen zählen
Pferds Welt - Größte Möhre
Deutschland sucht das Superschaf - Singen
Detektiv Wolle und der Regenbogen
Wetten! Was? Schafgeräusche
Pferds Welt - Kleinster Fisch
Pferds Einschlaflied
Ein bisschen Hafer - Wer, wie, was
Ad blocker interference detected!
Wikia is a free-to-use site that makes money from advertising. We have a modified experience for viewers using ad blockers

Wikia is not accessible if you've made further modifications. Remove the custom ad blocker rule(s) and the page will load as expected.