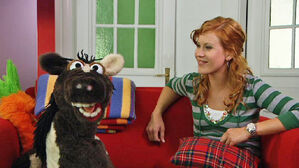 Wolke Hegenbarth plays Wolke on the Sesamstrasse spin-off series Eine Möhre für Zwei.
Her first name translates as "cloud"; her father had to fight in court to let her keep it. Wolke claims that 20% of her fame likely stems from her unique name. After involuntarily attending screen tests, while trying to become a makeup artist, she was cast in a 1995 sitcom. She has since starred in sitcom Mein Leben & Ich, become runner-up in the first season of the German Dancing with the Stars (Let's Dance), and competed in Germany's Eurovision Dance Contest.
Ad blocker interference detected!
Wikia is a free-to-use site that makes money from advertising. We have a modified experience for viewers using ad blockers

Wikia is not accessible if you've made further modifications. Remove the custom ad blocker rule(s) and the page will load as expected.