Music by
Felix Bernard
Lyrics by
Richard B. Smith
Date
1934
Publisher
WB Music Corp., Warner-Chappell Music, Inc.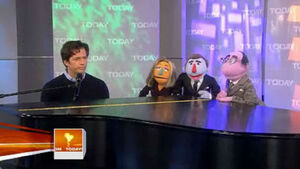 "Winter Wonderland" is a winter song, popularly treated as a Christmastime pop standard, written in 1934, that has been recorded by over 150 different artists including Guy Lombardo, Perry Como, Bette Midler and Ozzy Osbourne & Jessica Simpson.
The song has had additional lyrics included on various recordings. The original lyrics include references to Parson Brown, a Protestant minister, who can marry a couple. These lyrics were first substituted in 1953 with those about a Snowman, due to concerns that the original bridge of the song was inappropriate for children.
Other Muppet Productions
See also
Ad blocker interference detected!
Wikia is a free-to-use site that makes money from advertising. We have a modified experience for viewers using ad blockers

Wikia is not accessible if you've made further modifications. Remove the custom ad blocker rule(s) and the page will load as expected.