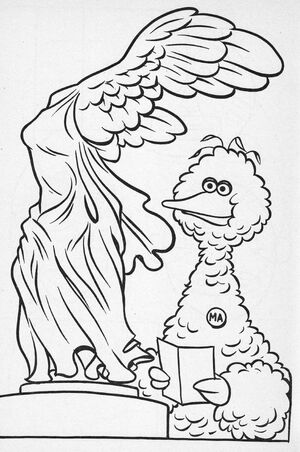 Winged Victory of Samothrace, also called the Nike of Samothrace, is a marble sculpture of the Greek goddess Nike, the God of Victory. Discovered in 1863, but sculpted around 190 BC, it was created to honor a sea battle, as well as the goddess. It is housed at the Louvre in Paris, France, where it is one of the most popular pieces in their collection.
The statue was shown in the Sesame Street coloring book, Museum of Monster Art, with Big Bird inspecting the artwork.
External links
Ad blocker interference detected!
Wikia is a free-to-use site that makes money from advertising. We have a modified experience for viewers using ad blockers

Wikia is not accessible if you've made further modifications. Remove the custom ad blocker rule(s) and the page will load as expected.