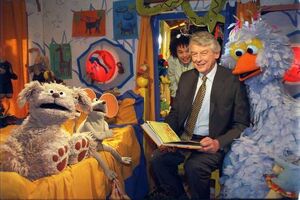 Wim Kok (b. 1938) is the former Prime Minister of the Netherlands, a role he served from 1994 to 2002.
Wim Kok appeared on Sesamstraat to help celebrate its 25th season, where he read the story "Er staat een olifantje in het gras" to Pino and others.
Ad blocker interference detected!
Wikia is a free-to-use site that makes money from advertising. We have a modified experience for viewers using ad blockers

Wikia is not accessible if you've made further modifications. Remove the custom ad blocker rule(s) and the page will load as expected.