Ad blocker interference detected!
Wikia is a free-to-use site that makes money from advertising. We have a modified experience for viewers using ad blockers

Wikia is not accessible if you've made further modifications. Remove the custom ad blocker rule(s) and the page will load as expected.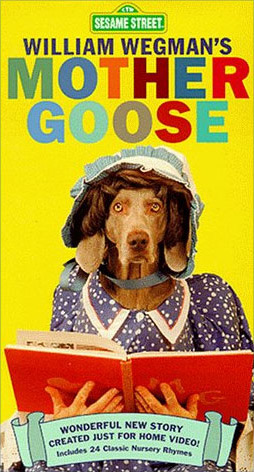 William Wegman's Mother Goose is a 1997 Sesame Street video starring William Wegman's dogs. In the 30-minute video, Mother Goose tries to teach her son, Simon Goose, how to rhyme using some of her famous nursery rhymes.
Some of the nursery rhyme segments aired on Sesame Street as regular inserts with minor differences in music, editing, and sound effects.
Segments
Cast
Wegman's Dogs:
Batty, Chundo, Crooky, Chip, Buster
Special appearances by:
Buster, Batty's puppies (Chester, Chip, Dr. Green, and Hector)
Credits
Director: William Wegman
Producer: Andrea Beeman
Camera: Allen Cohen
Narrator: William Wegman
Additional Voiceover: Andrea Beeman
Hands: Andrea Beeman, Jason Burch, Lisa Martin, Kathryn Ott, Pam Wegman
Feet: Andrea Beeman
Original Music: Mark De Gli Antoni, Tom Judson
Arrangements: Lawrence Lipnik
Supervising Producer for CTW: Arlene Sherman