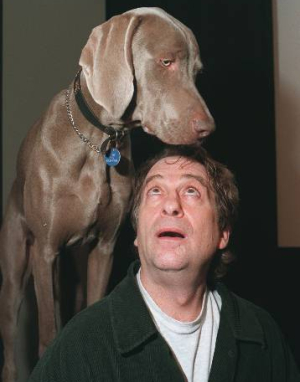 William Wegman (b. 1943) is a photographer and filmmaker best known for his work with Weimeraner dogs, and director of many short segments for Sesame Street featuring his dogs, including Fay Ray.
Wegman was born in Holyoke, Massachusetts. While living in Long Beach, California, Wegman acquired the first of many dogs, Man Ray, and created a series of photographs involving the dog in different poses or costumes.
Following Man Ray's death in 1986, Wegman acquired Fay, who became his new subject. In 1989, he was commissioned to create a series of artistic yet educational concept shorts for Sesame Street, using Fay and her pups, and in more recent years, their pups. Wegman wrote, directed, and provided deadpan narration for the segments, including an appearance in "Elmo's World: Dogs."
Wegman also produced the acclaimed short Dog Baseball, conceptual film pieces for Saturday Night Live, and many videos, released under the Sesame Street label, including William Wegman's Mother Goose.
External links
Ad blocker interference detected!
Wikia is a free-to-use site that makes money from advertising. We have a modified experience for viewers using ad blockers

Wikia is not accessible if you've made further modifications. Remove the custom ad blocker rule(s) and the page will load as expected.