Music by
Gioacchino Rossini
Date
1829
Source
Guillaume Tell (opera)
Publisher
public domain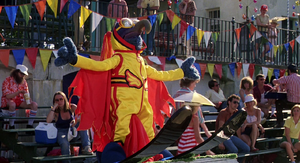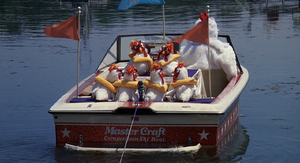 The "William Tell Overture" was written as the orchestral introduction to Gioacchino Rossini's opera William Tell (Guillaume Tell in its original French). Although the opera is no longer regularly performed, the overture has become a part of popular culture, having been used in Mickey Mouse and Looney Tunes cartoons, and as the theme to The Lone Ranger radio and television series since 1933.
Performances
The "William Tell Overture" was performed by a Muppet band on episode 320 of The Muppet Show. Beauregard stood against the stage's proscenium after explaining that he was in the number to Sam the Eagle. At the end of the piece, the double bass player used the strings of his bass as a bow to shoot the bass's bow across the stage. The projectile then pierced an apple situated on Beauregard's head, in a reference to the Swiss legend of William Tell on which the overture's opera was based.
After theorizing their mysterious Japanese helper might be The Lone Ranger, in Big Bird in Japan, Big Bird goes to sleep to a modified version of the Overture.
Album Releases
Notes
The father and son team of William and Walter Tell appeared on episode 307 of The Muppet Show, where they attempted their arrow through the apple act. The Overture, however, was not played.
Ad blocker interference detected!
Wikia is a free-to-use site that makes money from advertising. We have a modified experience for viewers using ad blockers

Wikia is not accessible if you've made further modifications. Remove the custom ad blocker rule(s) and the page will load as expected.