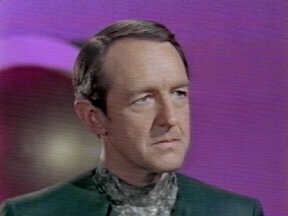 William Schallert (b. 1922) is a character actor best known for playing kindly paternal figures, notably starring as father Martin Lane on The Patty Duke Show. Schallert was heard as the WESAYSO Scientist in the Dinosaurs episode "Power Erupts."
An active performer in television and film since the 1940s, Schallert's other TV roles include the ancient, senile Admiral Hargrade on Get Smart, exasperated teacher Professor Pomfritt on The Many Loves of Dobie Gillis, a guest spot as Nilz Baris on Star Trek, and in later years, Boarder Wesley Hodges on the sitcom The Torkelsons. He also guest starred on Bonanza, Gunsmoke, Lois and Clark: The New Adventures of Superman, Lassie, The Twilight Zone, My Name is Earl, Perry Mason, True Blood and Star Trek: Deep Space Nine.
Film credits include the original Mighty Joe Young, Teachers (as the ineffectual principal), Singin' in the Rain, and prominent cameos in several of director Joe Dante's films, including Gremlins, Matinee, and Twilight Zone: the Movie. As a voice actor, Schallert has been heard in Pop Tart commercials as Milton the Toaster and in guest spots on The Smurfs and Angry Beavers. Beginning in 2005, he was heard as the voice of Abraham Lincoln for various attractions and exhibits at the Abraham Lincoln Presidential Library and Museum in Springfield, Illinois.
External Links