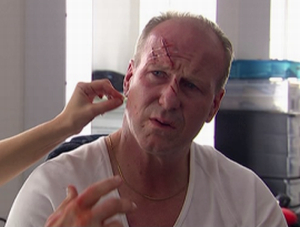 William Hurt (b. 1950) is an Academy Award winning actor for his leading role in the 1985 film Kiss of the Spider Woman (with Raul Julia and Sonia Braga). He received two more nominations for Best Actor in a Leading Role, for Children of a Lesser God (1987, with Linda Bove) and Broadcast News (1988, with Albert Brooks and Joan Cusack). In 2006, he received a Best Supporting Actor nomination for A History of Violence.
In 1998, Hurt played Professor John Robinson in Lost in Space, which used effects, costumes, and creatures from Jim Henson's Creature Shop. In 2006, he starred as hitman Jason Renshaw in "Battleground," the premiere episode of Nightmares & Dreamscapes, directed by Brian Henson.
External links
Ad blocker interference detected!
Wikia is a free-to-use site that makes money from advertising. We have a modified experience for viewers using ad blockers

Wikia is not accessible if you've made further modifications. Remove the custom ad blocker rule(s) and the page will load as expected.