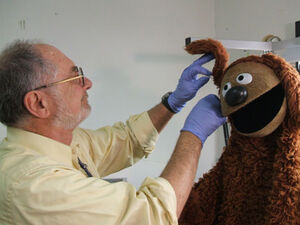 William Erdman served as a freelance builder and designer for the Muppet Workshop from 1998 to 2003 before joining Walt Disney Imagineering in March 2003. Erdman assisted with the restoration and preservation of several Muppet characters. He also helped build and install mechanical rigs and remote control devices in puppets used in special effects shots.
Working as a Disney Imagineer, Erdman was one of the lead designers and fabricators for the Muppet Mobile Labs, starring Dr. Bunsen Honeydew and Beaker. He currently oversees operation and maintenance of the unit as it moves between California, Orlando and Tokyo.
Work at Henson
Puppets restored/redressed
Special effect rigs installed
Big Bird left arm waldo-control rig (for Sesame Street)
Cage dancer Scooter waldo-control rig (for Very Merry Christmas Movie)
Beaker's glowing eyes (for Very Merry Christmas Movie)
"Frozen" Kermit rig (for Very Merry Christmas Movie)
Countless radio controlled eye mechanisms, waldo mouth rigs and full body puppet skeletons for photo shoots.
Work at Disney
Muppet Mobile Labs (development, character creation, maintenance)
Monsters, Inc. Laugh Floor (prop creation)
Toy Story Mania (development)
Toon Studio (development)
Muppet*Vision 3D (character and set maintenance)
It's a Small World (character maintenance)
Haunted Mansion (set maintenance)