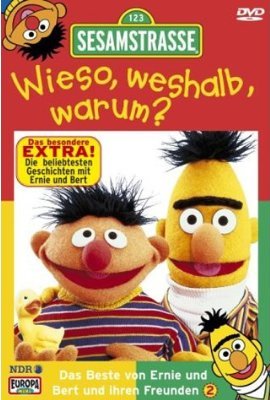 Wieso, weshalb, warum? ("Why, why, and why?") is a Sesamstrasse video.
Segments
Der, die, das!
Ernie am Schlagzeug
Ich mag Müll
Die Kuh springt über den Mond
Fegen
Im Kino
Der Bonbontanz der Krabbelkäfer
Goodbye, kleiner Prachtkeks
Messer, Gabel, Löffel
Bert bringt den Tauben das Schach spielen bei
Der Elefantfahrstuhlführeraufzugsleiter
Eine Frühjahrskartoffel aus Sachsen
Plonsters: Die Frösche
Super-Grobi: "über" und "unter"
Ernie malt ein Bild
Quietsche-Entchen, quietsch!
Der Hasen-Trick
Zwei Löcher
Aufräumen
Ich mag dich
Mah Na Mah Na
Ernie will in die Bibliothek
Ad blocker interference detected!
Wikia is a free-to-use site that makes money from advertising. We have a modified experience for viewers using ad blockers

Wikia is not accessible if you've made further modifications. Remove the custom ad blocker rule(s) and the page will load as expected.