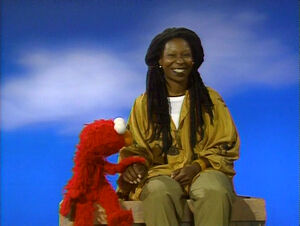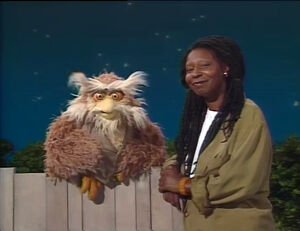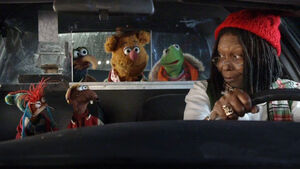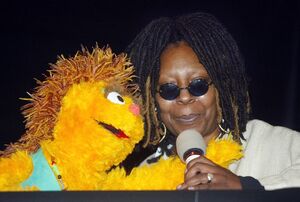 Whoopi Goldberg is an Academy award-winning actress and comedian who is known for many roles in television and film, including The Color Purple, Ghost, Sister Act, Whoopi's Littleberg, and Star Trek: The Next Generation. Since September 2007, she has been one of the co-hosts of The View. She also voiced Shenzi in Disney's The Lion King. She has appeared with the Muppets in many different contexts, including Sesame Street, Muppets Tonight, Muppet Babies, Bear in the Big Blue House, It's a Very Merry Muppet Christmas Movie, Letters to Santa and The Muppets.
Goldberg's association with the Muppets began early in her career. According to Kevin Clash, "Before she was well-known, she was a baby-sitter for some of the kids we had on the show. Then she became famous and whenever we ask her to do something for us, she's always there. She's a part of Sesame Street." [1] Goldberg is Clash's favorite guest star, and he has worked with her as both Elmo and Hoots.
In an article for Newsweek on November 21, 2011, Goldberg spoke extensively about her history with the Muppets.
"
There's nothing like seeing the Muppets in real life, because you're stunned. You're stunned by their simplicity. Yes, it's just a rag with some eyes, but I don't know anybody who doesn't just go with it and fully believe they have all the attributes that you think they have.
"
She went on to say, "When you're with them, your relationship is as strong to them as it is to human beings. You don't see the Muppeteer." Goldberg says she still wishes to work with Sweetums, and "I knew that I had made it in my career when I was in Mad magazine and I got to play with the Muppets. Those are the two things that really mattered. Yes, it's brilliant to have an Oscar, but if you get to play with the Muppets as much as I have, that's an amazing thing."[2]
Appearances
Sesame Street
Muppets
Muppet Babies
Bear in the Big Blue House
Creature Shop
Panwapa
References
↑ Elisa Chia, "Meet the grown-up behind Elmo", 31 July 2006.
External links
The Daily Beast "Muppets Movie: Whoopi Goldberg on Loving Kermit and Miss Piggy" by Whoopi Goldberg, November 21, 2011