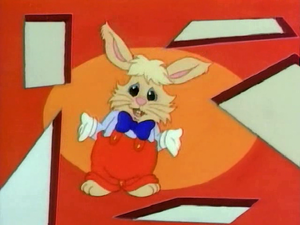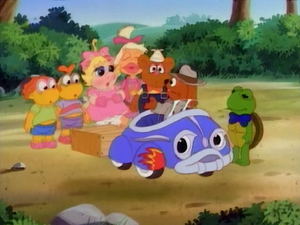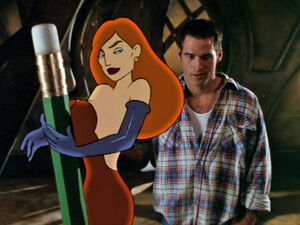 Who Censored Roger Rabbit? is a detective/humor novel written by author Gary Wolf in 1981, well known today for being adapted into Touchstone Pictures' successful 1988 live-action/animation film Who Framed Roger Rabbit.
Mentions
While the film differs drastically from the book plot wise, some of the characters remain the same. The book involves Roger and one of his bosses being murdered. At one point in the novel, Eddie Valiant finds a toy Kermit the Frog and holds onto it for the rest of the story. The toy Kermit ends up becoming a recurring element in the story.
References
Baby Bean Bunny goes missing in the 1990 Muppet Babies episode "Whose Tale Is It, Anyway?" and takes on the persona of a number of lagomorphic characters from various stories. When Janice captures something in a box-and-stick trap, it's revealed to be Baby Rowlf playing the part of Eddie Valiant riding Benny the Cab. Bean overhears him looking for a tall rabbit in red overalls and funny cheeks, and responds to himself: "oh p-p-p-please," after Charles Fleischer's recognizable voice tick for Roger Rabbit. Later, in song, Bean appears as the character in an attempt to keep up with everyone's expectations.
Connections