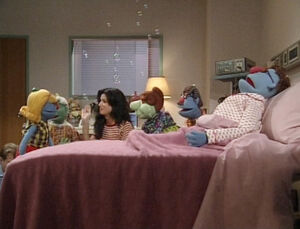 While You Were Sleeping is a 1995 romatic comedy starring Sandra Bullock as a lonley train fare collector whose crush on a commuter becomes complex when she is mistaken to be his fiancée.
The film was spoofed as "While You Were Slapping" in episode 107 of Muppets Tonight.
Connections
External links
Ad blocker interference detected!
Wikia is a free-to-use site that makes money from advertising. We have a modified experience for viewers using ad blockers

Wikia is not accessible if you've made further modifications. Remove the custom ad blocker rule(s) and the page will load as expected.