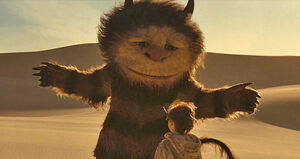 Where the Wild Things Are is a classic children's book by Maurice Sendak published in 1963. It tells the story of a boy named Max who shares extraordinary adventures with a group of creatures.
Since its publication, the book and author have been littered with a number of awards, adapted as a test animation project by John Lasseter, a 1983 opera by Oliver Knussen, and has been referenced in pop culture numerous times.
In October 2009, Warner Bros. Pictures released a live-action theatrical film based on the book, and featuring creatures from Jim Henson's Creature Shop.
References
See also
Ad blocker interference detected!
Wikia is a free-to-use site that makes money from advertising. We have a modified experience for viewers using ad blockers

Wikia is not accessible if you've made further modifications. Remove the custom ad blocker rule(s) and the page will load as expected.