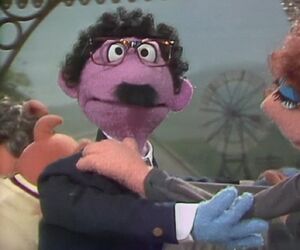 Whatnots are blank Muppet heads, onto which facial features, bodies, and clothes are added to make any kind of character in the Muppet Show universe. A similar group of Muppets known as Anything Muppets appear on Sesame Street.
Notable recurring characters made from Whatnots include Lew Zealand, Marvin Suggs, and Bobby Benson.
There were many different Whatnots. In the first two seasons, the Whatnots were mostly shaped like Fraggles. Later in the series, more humanoid Whatnots were added, often with sculpted noses.
In 1993, Playskool released a series of toy Muppet Workshop Puppet Kits based on the concept of Whatnot Muppets.
In 2008, FAO Schwarz in New York City opened The Muppet Whatnot Workshop, an interactive puppet creation display that remained in operation until 2015. For promotion of the workshop, the Muppets (led by the Whatnots) took over the Today Show on November 13, 2008.
Additionally, Muppet Whatnot Workshop kits were sold through Toys R Us stores in late 2011 to coincide with the promotion for The Muppets.
See also
Ad blocker interference detected!
Wikia is a free-to-use site that makes money from advertising. We have a modified experience for viewers using ad blockers

Wikia is not accessible if you've made further modifications. Remove the custom ad blocker rule(s) and the page will load as expected.