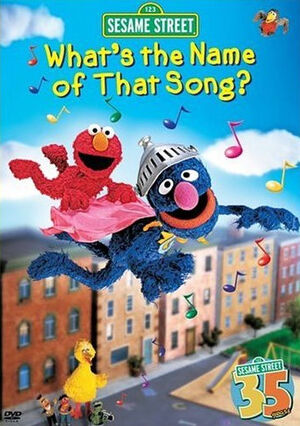 | | |
| --- | --- |
| Release Date | 2004 |
| Produced by | Sony Wonder |
| Catalogue no. | LVD 55725 |
| Format | DVD |
| Discs | 1 |
| Region | 1 |
| ASIN | |
What's the Name of That Song? is a 2004 Sesame Street direct-to-video special in which Super Grover must find one song that the whole world can sing together. This video celebrates Sesame Street's 35th anniversary.
The new segments were filmed on location in a New York City park.
The original DVD cover could open as a cardboard booklet, featuring lyrics to select songs from the video.
Other releases
DVD chapters
Celebrity Sing (edited)
Gospel Alphabet - Patti LaBelle (edited)
What's the Name of That Song Finale
DVD bonus features
Screenshots
Ad blocker interference detected!
Wikia is a free-to-use site that makes money from advertising. We have a modified experience for viewers using ad blockers

Wikia is not accessible if you've made further modifications. Remove the custom ad blocker rule(s) and the page will load as expected.