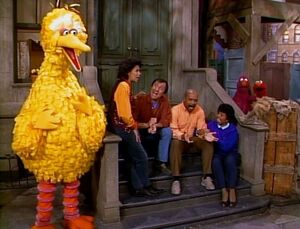 "What's the Name of That Song?" was first performed by the Sesame Street cast in Episode 0666. It has been performed many times since. It is best known for its recurring "la-di-da-di-dum"'s .
The cast sang this in the finale of Sing Along, and it was also used as a plotline in the self-titled What's the Name of That Song?, in which Oscar the Grouch played an instrumental version of this tune, causing Big Bird to struggle to find out the name of the song. By the end of the video, Grover revealed that this was his favorite song (though he initially didn't know the title either), and then the cast sang this song.
This song was also sung by the cast, led by Lillian, in Season 23 (EKA: Episode 3079).
It was featured in the first edition of Sesame Street Live.
A remake of the song was performed in a sketch with Ernie and Bert singing at nighttime, and another remake was performed in a western sketch with Forgetful Jones (EKA: Episode 2643).
"La Chanson de l'Amitié" in 5, Rue Sesame is the same song as this, with different lyrics.
Releases
Audio
Video
Online
Publications
Ad blocker interference detected!
Wikia is a free-to-use site that makes money from advertising. We have a modified experience for viewers using ad blockers

Wikia is not accessible if you've made further modifications. Remove the custom ad blocker rule(s) and the page will load as expected.