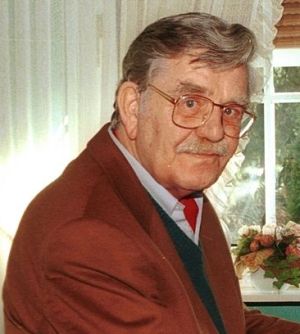 Werner Schumacher (1921-2004) was a German actor and voice actor who lent gruff tones to dubbing various monsters on the early seasons of Sesamstrasse, including Fenwick (renamed "Teufelchen," little devil) and, at times, Beautiful Day Monster. He also dubbed minor Anything Muppets, such as the king's subjects (heard in the album Sesamstrasse, Folge 3.)
Schumacher performed on stage in the 1940s and then on German radio beginning in 1950 in Lucille Fletcher's The Hitchhiker. He was heard in an installment of detective series Gestatten, mein Name ist Cox (1952), in Dylan Thomas's Return Journey and Samuel Beckett's All That Fall, and over a dozen times on the crime anthology Die Jagd nach dem Täter (1957-1962, in parts ranging from one of Ma Barker's sons to police officers). German film credits included The Devil's General, The Captain from Köpenick, and Doctor Crippen Lives.
Although he worked frequently out of Hamburg, he starred on the Stuttgart-produced episodes of Tatort as lead investigator Kommissar Lutz from 1971 until 1986. As a voice actor from the 1960s onward, he dubbed Ward Bond as Bert in It's a Wonderful Life, Mickey Spillane and other actors on Columbo, Kevin Hagen as Dr. Baker on Little House on the Prairie, and Mr. Freeze on Batman: The Animated Series.
External links