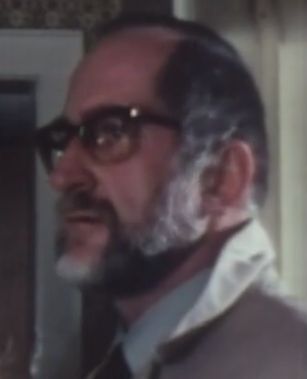 Werner Abrolat (1924-1997) was a German voice actor who dubbed Gonzo in Die Muppet Show and the films and specials through A Muppet Family Christmas. He also dubbed minor character parts (usually old men) in Jim Hensons beste Geschichten (The StoryTeller).
Abrolat's acting career began after World War II and was initially limited to the provincial stage. Then in 1949, he began appearing on television and dubbing films. In 1965, he appeared with Clint Eastwood and future Die Muppet Show co-star Kurt Zips in Sergio Leone's acclaimed spaghetti Western For a Few Dollars More (as outlaw Slim), and appeared in Jess Franco's films The Castle of Fu Manchu (featured on Mystery Science Theater 3000) and The Bloody Judge. He was also a frequent player in the comedies of German filmmaker Helge Schneider.
As a voice actor, Abrolat dubbed Christopher Lloyd in Star Trek IV, David Ketchum in The Main Event, and Peter Sallis in Who Is Killing the Great Chefs of Europe?. TV dubbing included Davros and others on the original Doctor Who and several guest stars on Columbo and Cheers. Animation roles included Groundskeeper Willie in The Simpsons, Moralelastix in Asterix vs. Caesar, and Unicron in Transformers: The Movie.
For German television, Abrolat appeared in episodes of Derrick, Tatort, the German Father Brown adaptations, and Das Kriminalmuseum. He also appeared in an episode of the BBC World War II series Colditz as a German farmer.
Muppet dubbing credits
as Gonzo unless otherwise noted
External links