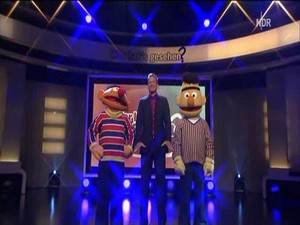 Wer hat's gesehen? (translated as "Who saw it?") is a German quiz show broadcast on NDR since 2000. The hosts have included Florian Weber (2010-2011) and Bettina Tietjen (2011 onward). Three contestants answer questions about German TV from the 1960s to present day.
On September 19, 2010, walk-arounds of Ernie and Bert helped out on the show by supplying host Florian Weberwith the expert questions and exited with the two contestants who did not reach the final. One of the contestants also answered three expert questions about Sesamstrasse.

The June 16, 2013 broadcast celebrated the 40th anniversary of Sesamstrasse with in-studio guests Ernie, Bert, and Samson join Bettina Tietjen. Also featured were former Sesamstrasse cast members Horst Janson and Caroline Kiesewetter, as well as guest star Herbert Feurstein.