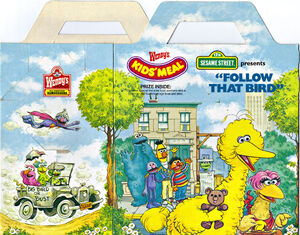 Wendy's is an international fast food chain restaurant founded by Dave Thomas in 1969, in Columbus, Ohio.
Mentions
To promote their pretzel buns, a 2014 marketing campaign by Wendy's asked Twitter followers to tweet lyrics for a #pretzellovesong. Boyz II Men released a music video based on the suggested lyrics, including "Om Nom Nom". (YouTube)
References
When Rizzo the Rat serves a hamburger with no meat to a customer in The Muppets Take Manhattan, he yells back to the kitchen, "Where's the beef?" This is a reference to a popular Wendy's commercial in which an elderly woman receives her order from a fictional competitor, whose slogan is "Home of the Big Bun", and angrily exclaim, "Where's the beef?"
Premiums
Ad blocker interference detected!
Wikia is a free-to-use site that makes money from advertising. We have a modified experience for viewers using ad blockers

Wikia is not accessible if you've made further modifications. Remove the custom ad blocker rule(s) and the page will load as expected.