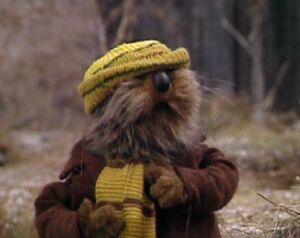 Wendell Porcupine is Emmet's best friend in Emmet Otter's Jug-Band Christmas. Wendell is a terrible fisherman who loves mashed potatoes. He occasionally teams up with Emmet to perform odd jobs around Frogtown Hollow.
Wendell blows jug in the Frogtown Jubilee Jug Band. After participating in the annual Waterville talent contest, the Band (along with Alice Otter) were hired by Doc Bullfrog for a permanent gig singing and playing at the Riverside Rest.
Behind the Scenes
Many of the quills sticking out of Wendell's hat and coat were actual porcupine quills. In Russell and Lillian Hoban's original book, Wendell was a raccoon; his full name was "Wendell Coon". He was changed to a porcupine for the Henson adaptation.
Wendell was performed by Dave Goelz. In the book Of Muppets and Men, Goelz explains that the clumsy and dimwitted Beauregard was based on Wendell Porcupine.
For the Goodspeed musical adaptation, the role of Wendell was originated by Robb Sapp.