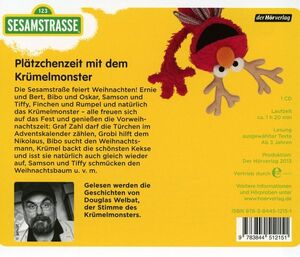 Weihnachts-Geschichten (Christmas Stories) is a 2013 Sesamstrasse CD of stories, written by Angelika Paetow and read by Douglas Welbat, the German voice of Cookie Monster. The CD was one of several product tie-ins to the 40th anniversary of Sesamstrasse.
Product description
"Sesame Street" is celebrating Christmas! Bert and Ernie, Bibo and Oscar, Samson, Tiffy, Finchen, Rumpel, Grobi and of course Krümelmonster - all look forward to the festival and enjoying the Christmas season: Graf Zahl must count the little doors in the advent calender, Grobi helps Nikolaus, Bibo looks out for Santa Claus, Krümel bakes the best cookies and eating them on at once, Samson and Tiffy decorate the Christmas tree and more.
Track listing
Ansage
Samsons Iglu-Party
Samsons Iglu-Party
Samsons Iglu-Party
Ein Adventskalendar für Graf Zahl
Ein Schneckenhaus zum Nikolaus
Ein Schneckenhaus zum Nikolaus
Stiefel für den Nikolaus
Stiefel für den Nikolaus
Krümels Monster
Wer hat den schönsten Tannenbaum
Wer hat den schönsten Tannenbaum
Bibo sucht den Weihnachtsmann
Bibo sucht den Weihnachtsmann
Tiffys Bescherung
Tiffys Bescherung
Tiffys Bescherung
Ad blocker interference detected!
Wikia is a free-to-use site that makes money from advertising. We have a modified experience for viewers using ad blockers

Wikia is not accessible if you've made further modifications. Remove the custom ad blocker rule(s) and the page will load as expected.