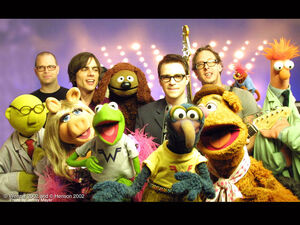 The band Weezer featured the Muppets in their music video for "Keep Fishin'" in 2002. Later, the band performed a cover of "The Rainbow Connection" with Hayley Williams on 2011's The Green Album.
Weezer's 2001 album Weezer became known as "The Green Album" by fans, and is widely considered to be the band's "rebirth", debuting at #4 in the US, and #2 in Canada.
External links
Ad blocker interference detected!
Wikia is a free-to-use site that makes money from advertising. We have a modified experience for viewers using ad blockers

Wikia is not accessible if you've made further modifications. Remove the custom ad blocker rule(s) and the page will load as expected.