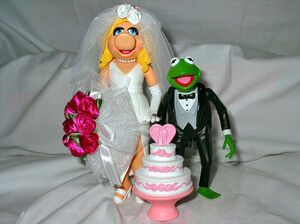 The "Wedding of the Century" Kermit and Piggy Action Figures are a set of figures featuring Miss Piggy and Kermit as bride and groom. The production of the figures was limited to 300 pieces and given away as party favors at Palisades Toys Product Director Ken Lilly's wedding. The Jim Henson Company gave Palisades permission to produce these figures as a wedding gift under the condition that Palisades Toys never make them available for sale at retail.
Ad blocker interference detected!
Wikia is a free-to-use site that makes money from advertising. We have a modified experience for viewers using ad blockers

Wikia is not accessible if you've made further modifications. Remove the custom ad blocker rule(s) and the page will load as expected.