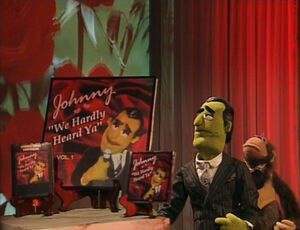 We Hardly Heard Ya is Johnny Fiama's Greatest Hits album. He advertises it with Sal Minella on episode 105 of Muppets Tonight. The "commercial" is narrated by A. Ligator, and includes some interesting disclosures from Sal about Johnny's tax status and debt.
Songs on the album include the "Theme from New York, New York" and "Hooked on a Feeling" (Sal does the ooga-chackas).
Ad blocker interference detected!
Wikia is a free-to-use site that makes money from advertising. We have a modified experience for viewers using ad blockers

Wikia is not accessible if you've made further modifications. Remove the custom ad blocker rule(s) and the page will load as expected.